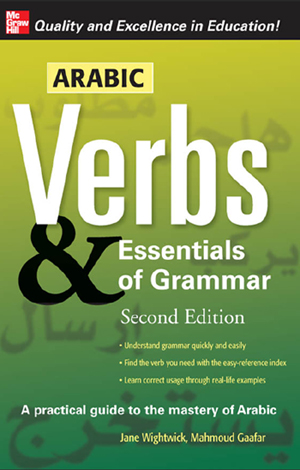 Arabic Verbs and Essentials of Grammar 2nd Edition ini sangat bagus dibaca oleh beginner yang betul-betul ingin mendalami bahasa Arab. Buku ini dikarang oleh Jane Wightwick & Mahmoud Gaafar. Tebalnya ialah 161 muka surat.
Buku edisi PDF ini saya temui di laman web lain di internet, jadi saya ingin kongsikan di sini kepada semua. Ia dibahagiakan kepada 2 bahagian. Bahagian pertama ialah Arabic Verbs dan bahagian kedua mengenai Arabic Essentials of Grammar.
Antara kandungan buku ini ialah:
Introduction p5
1. The Arabic root system p6
Part One: Arabic Verbs
2. Regular verbs: The basic tenses p13
3. Irregular verbs: Introduction p19
4. Irregular verbs: Verbs with waaw or yaa' as a root letter p20
5. Irregular verbs: Doubled verbs p30
6. Irregular verbs: Verbs with hamza p33
7. Derived forms of verbs: Introduction p38
8. Derived forms II–IV p40
9. Derived forms V–VI p47
10. Derived forms VII–X p54
11. Essentials of making sentences with verbs p62
12. Verbs in the subjunctive p65
13. Verbs in the jussive (incl. the imperative) p69
14. Making verbs negative p79
15. Making verbs passive p82
16. Verbal nouns and other verbal constructions p87
17. Verbs in the dual p95
18. Verbs with four root letters (quadriliterals) p97
19. Some unusual common verbs p99
Part Two: Arabic Essentials of Grammar
20. The article and personal pronouns p105
21. Genders p107
22. Sentences without verbs p109
23. Describing things p111
24. Describing position (prepositions of place) p115
25. Plurals p116
26. Describing possession p119
27. Questions and relative clauses p122
28. The dual p123
Appendixes
(i) Arabic alphabet and pronunciation p124
(ii) Grammatical case endings p125
(iii)Numbers p126
Verb Index: 400 Arabic verbs for easy reference p127
Arabic–English p128
English–Arabic p144
♥ Download di sini (*FOR MEMBERS ONLY)
*Members ialah mereka yang berdaftar di web ini. Sila log in terlebih dahulu untuk download. Members boleh download direct daripada web site ini. Untuk DAFTAR sebagai ahli, klik DI SINI.